It gives us immense pride to claim recognition for being one of the top companies in India in the field of construction and development. In the recent past, MSpace has been conferred with several awards and top banners from both International and National conglomerates.
Being a one of a kind subsidiary to the international giant, Le Home Concepts which specializes in Invisible Grilles, supply of Aluminum Windows, Automatic Gates, Carpet Grass and other luxury home construction items in Singapore, MSpace has bagged several awards for innovation and excellence.
MSpace was established in the year of 2017 in the beautiful city of Hyderabad. Since day one, we have strived towards excellence and the maximum satisfaction of our clients. Slowly, we've extended our operations into other states of the country. By being hailed as one of the greatest companies in the country, we couldn't be prouder. At the same time, we are also humbled and diligently work towards promoting our brand and our services.
Drawing interest from premier clients across the country, MSpace has been the chosen partner for several premier projects in the country.
This time, we are honored to be a part of IIT Madras as MSpace's invisible grills were chosen as an ideal choice at the campus.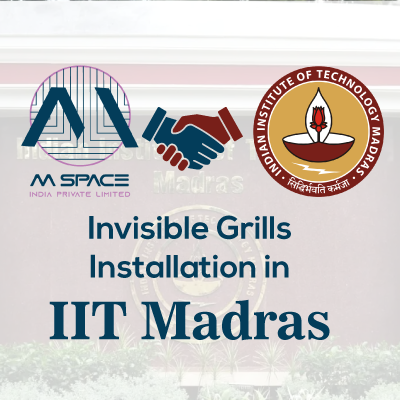 To begin with, the IIT Madras campus is infested with monkeys and the menace creates a hostile environment to the students and faculty. MSpace's invisible grills provide the ultimate protection from such issues by creating a harmless banner between the inhabitants and the animals. In the view of environmental safety and out virtue towards fellow living beings, MSpace's invisible grills were installed on windows, balconies, gates, fencing systems, etc. While offering the ultimate protection from monkeys and other animals, the grills also provide an aesthetic structure to the buildings at the campus. They also enable an unblocked view.
Premium institutions like IIT Madras, Brigade School, VIT Vellore and others opting for MSpace's invisible grills is a testament to the superlative quality of invisible grills. They are undoubtedly a revolution in the window and balcony guard systems. They are durable, reliable, safe and provide maximum security to your premises without impairing your home-design.
As our clients and buyers increase and as we bag newer accolades every day, our main aim to provide the highest quality invisible grill at the best prices deepens further.
If you are thinking about installing invisible grills on your property or know someone who needs invisible grills, reach MSpace – https://mspace.in/. You can also drop in an email at sales@mspace.in or call us at +91 9177737863.