Purchasing or building a house in 2022 is almost synonymous with having invisible grills installed in your home. Be it on your windows, balconies or as a part of your interior décor, the use of an invisible grille is widely prevalent amongst owners, builders and interior designers.
The invisible grill
is a wonderful, near perfect alternative to traditional MS grills or any other window/balcony grilling system available in India. Designed thoughtfully to offer unobstructed view and maximum safety, it also enhances the interior and exterior of your building.
In Hyderabad, invisible grills have turned out to be so famous across different parts of the city.  From the old city, the Jubilee and Banjara hills to the premier projects being developed on the outskirts have all been influenced by the glory of invisible grills.
Being the city of Nawabs that it is, Hyderabad is known for its breath-taking views and unmatched blend of royalty and modernity. Every part of the city has its own appeal and is decorated in rich tradition throughout. With monumental buildings, the multifarious charms and the gleaming sight of sunset, residing in the city is a refreshing experience for all. Unquestionably, a product like invisible grills is bound to make ripples in the real estate industry. To experience the beauty of the city, building your home without the use of invisible grills in your balcony is unimaginable.
For an indescribable experience…
Invisible balcony grills provide an experience that can only be felt by the inhabitants. Apart from being stylish and offering you stunning views, they come at attractive prices and unbeatable quality. Besides, invisible grills are the most technologically advanced grilling system available in the market today. In today's highly commercialized world, it only makes sense to have them installed in your modern building.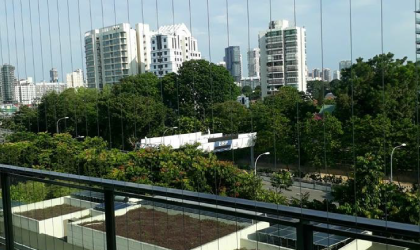 For safety…
Hyderabad is also one of the most notorious cities when it comes to accidents, robberies or other dangers. In a world where robberies too have become innovative, protection standards too must grow accordingly. An integrated alarm system like the one in MSpace's invisible grills helps residences, establishments and other buildings keep robbers away.
Moreover, as buildings get higher and higher, the amount of risk is multiplied. The building's façade can become a breeding ground for mishaps waiting to happen. It poses a fatal risk to the people inside as well as outside the building. To tackle this, invisible grills in your balcony can be adjusted to a tensile strength of up to 400 kilograms.
Invisible grills are a new revolution in the window and balcony grilling system that have transformed the way we perceive building security and protection. Without impairing the modern and futuristic design of your building, invisible grills offer maximum security without any hassles.
MSpace invisible grills in Hyderabad are installed at various prestigious institutions, commercial and residential properties across the city.
Are you looking for the most ideal invisible grills in Hyderabad that give you security and wellbeing, get in touch with MSpace today: https://mspace.in/
You can also drop in an email at sales@mspace.in or call us at +91 9177737863.
For our recent feature in the newspaper, visit: https://www.franchiseindia.com/magazine/2019/April/invisible-grills-visible-profits.2027
Follow us on Social Media: