'Invisible Grills', as the name suggests are window grills that are in principle inconspicuous window grills that offer the protection and safety of traditional grills but with the exception of an enhanced view.
To begin with, let's understand the form and function of invisible grills.
The sole idea behind invisible grills is to unblock the view i.e. to offer a better viewing experience than bulky traditional grills made with Mild Steel (MS). Without doubt, they are a product of rigorous innovation and testing. The grills are designed and installed in such a way that they are virtually invisible to human eyes.
Now, coming to the question, why builders need to choose invisible grills, the answer is quite subjective.
The world has never ever been on a pedestal before. The rapid advancement of technology and innovation is to blame for. From experiencing the world at our fingertips to realizing the wildest of our dreams, it is the same innovation and technology that has empowered us. We are all in some way touched by technology and modernization.
The same innovation, rather, a small bit of it is responsible for the invention of invisible grills. It is a leap forward; a valiant progress towards betterment; the future!
Invisible grills are the ultimate grilling solution for any modern commercial/residential or any other type of building. There are several reasons why you MUST choose invisible grills today.
Clearer, more enhanced view of the horizon through your building.
Zero to minimal maintenance from cleaning.
Makes your building look modern and futuristic.
Integrated alarm systems to keep robbers away.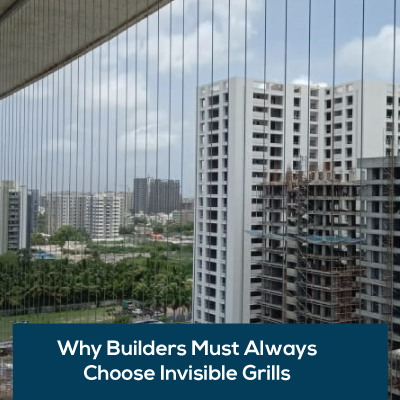 Additionally, the process of construction becomes much easier with invisible grills. Unlike traditional grills that may require procurement, designing and installation, invisible grills are readily available and usually companies take care of the installation as well. It reduces the need to look for multiple vendors.
To satisfy a wide range of projects, a builder can choose from vertical/horizontal or fixed/sliding invisible grills. They are also highly customizable. They can be installed at various gap widths from 2 inches and in some cases over 5 inches. One can also use invisible grills for decorative purposes.
They offer homeowners and builders flexibility and customizability like no other.
If you are in the market for a robust grilling system, you should look no further and install invisible grills in your building today.
Get in touch with MSpace today: https://mspace.in/. You can also drop in an email at sales@mspace.in or call us at +91 9177737863.