High-rise buildings are generally built to the highest safety standards and offer multiple modes of safety and protection to the inhabitants. Unlike 'low-rise' buildings, high-rises are also earthquake proof, fire retardant and safe from floods.
With the number of high-rise buildings increasing by the day, these safety features too must be updated and passed through intense scrutiny and rigorous testing which ensures that there is no compromise whatsoever.
In order to maintain the highest standards for safety, MSpace's invisible grills are thoroughly tested against real life scenarios under high pressure environments which can increase the likelihood of an accident. 
In terms of safety, there can never be enough. While protection equipment, thoughtful construction and automatic fire extinguishing methods are one part, there also must be adequate protection in high-risk areas such as windows and balconies. This is where MSpace's invisible grills provide the most reasonable solution. 
MSpace invisible grills made with 316 stainless steel cords provides a safety solution that is unlike any other window grilling system available in the market. It is developed with a material that keeps it away from rusting, degradation and general withering due to extreme climate. Along with this, the grills are wrapped tightly into an innovative nylon coating that raises the bar of safety by multiple folds.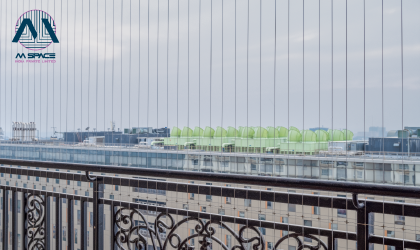 Children and pets are curious creatures that will most likely put themselves in dangerous positions in a high-rise building. Today, MSpace's invisible grills are so evolved that you can take a sigh of relief for they fulfill the purpose beyond doubt. Let your children and pets enjoy the view outside your building because our invisible grills can be custom fitted at gaps of 4/5/6 inches according to your requirements. 
Every year, hundreds of children and pets fall and die or injure themselves seriously by falling from balconies and windows in high-rise apartments. Invisible grills are a simple and effective way in preventing such accidents and potentially saving the lives of notorious children and pets. Each of the stainless steel cables is adjusted to a tensile strength of up to 400 kilograms. Such a product will not only save lives but will also last for several decades to come without requiring any maintenance.
Do invisible grills actually make your building secure?
Features like 400 kilo tensile strength, customizable gap, 316 marine grade stainless steel do make invisible grills a highly durable product from the inside out. However, most burglaries happen when the occupants are out. With the passing day, burglars too have started to adopt innovative methods to rob buildings. Thankfully, MSpace invisible grills also come with a built in alarm system which will effectively keep burglars away from your building. Any single cable of the invisible grills installed at your building when cut, will trigger a loud alarm alerting the security and your neighbors ultimately safeguarding your home from an unlikely event of a burglary.  
MSpace brings you thoughtfully designed invisible grills with latest technologies that are certified worldwide to provide you maximum safety and tight security while retaining your home-design. 
Are you looking for the most ideal invisible grills in Hyderabad that give you security and wellbeing, get in touch with MSpace today: https://mspace.in/
You can also drop in an email at sales@mspace.in or call us at +91 9177737863.
For our recent feature in the newspaper, visit: https://www.franchiseindia.com/magazine/2019/April/invisible-grills-visible-profits.2027
Follow us on Social Media: